Greetings to the all Grahams worldwide.
It's my pleasure, as the North American Chieftain of Clan Graham to welcome you to this website. By way of instruction, allow me to introduce myself. His Grace, the 8th Duke of Montrose and Chief of the Clan Graham appointed me to be his Chieftain in North America as did his late father the 7th Duke of Montrose before he passed away in the early 90's. Back then, I'm proud to say that, the Lord Lyon King of Arms in Scotland also granted me my own personal Armorial Bearing.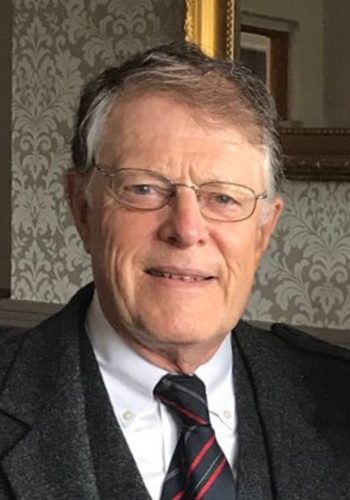 It's been a while since I have been able to send a message but it gives me much pleasure to do so now. Clan Graham is in good shape with its Society officers each keeping up with various assignments and which Society President, David Graham, will no doubt let you know about. They meet via a teleconference call on a regular schedule.
My wife Kate and I had been busy making arrangements for the Clan Graham Society Annual General Meeting (AGM) trip to Scotland in 2020 but that has all been postponed until 2021 because of the worldwide virus pandemic. Drastic changes have been made that involve postponing the AGM trip details in Scotland this year but duplicating them in 2021. On both sides of the Atlantic we seem to be doing all we can to offset its effects but we cannot avoid being very concerned with how it affects our Clan in particular. Our AGM trip to Scotland in 2021 is likely to be scheduled starting July 27th and ending August 7th.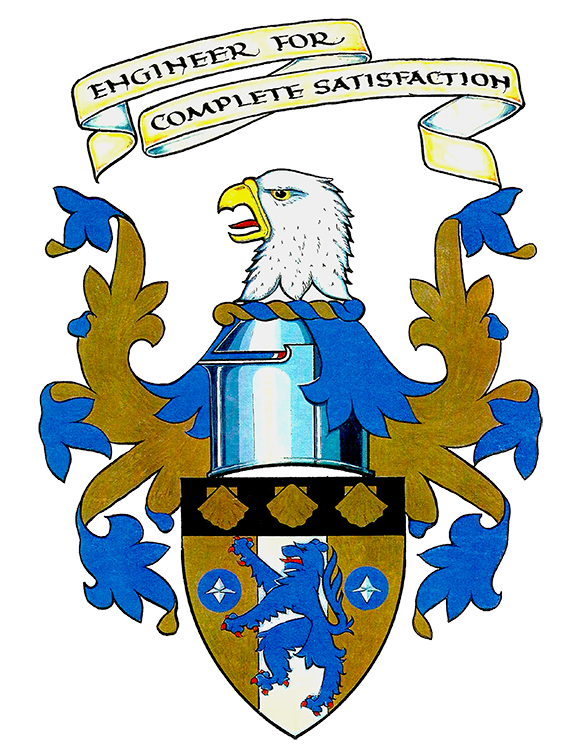 We are optimistic that travel around those dates will be normal and possible depending upon international conditions at that time.
As some of you will know, the 2021 AGM trip is expected to include Mugdock Castle, the Preschal Gardens and our Chiefs seat at Buchan Castle. We also plan on visiting the Orkney Islands which are off the far North coast of Scotland. Neither Kate nor I have been there ourselves but those we know that have been there have been enchanted and are ready to go again. We will visit places of particular interest to Grahams since Grahams have had considerable influence in the Orkneys, a fact that has encouraged us to go to these remote islands. Orkney includes Neolithic sites older than Stonehenge in England. I do hope that many of you will join us on this trip at the end of July 2021.
Kate and I have also been to New Zealand and back early this year to join Scots, and in particular, Grahams at two Highland Gatherings and Balls on the North and South islands of New Zealand. We were warmly welcomed by Lady Lilias Bell (nee Graham) who organized the whole thing. Other Grahams from various parts of the world were there to join us too.
I look forward to seeing many of you soon and I pray that you will be safe from the virus pandemic that is all around us.
aye,
Richard Graham
ARTICLE LINKS
DOCUMENTS
(DOWNLOADABLE WORD FILES)
The officers of the Clan Graham Society have established a special scholarship to encourage and promote Scottish arts and culture. Members of the Clan Graham Society and their relatives will be considered first to receive the scholarship funds, but the funds are not restricted to Clan Graham Society members. [...]
BOOK REVIEWS
The following books have been reviewed by members of the Society as possible resources for clan and heritage information and genealogical references.
"The Knights Templar and Scotland" by Robert Ferguson A newly published book by Robert Ferguson started out as a question in the author's mind and has ended up as an extensive study of the Knights Templar in Scotland. The question was "Is the phrase 'Scotland-The Unbroken Templar Link' true?" This [...]
"The Hunt for Rob Roy: The Man and the Myths" by David Stevenson The Duke of Montrose addressed the Annual General Meeting of the Clan Graham Society this past August (2005). He discussed a recently published book entitled "The Hunt for Rob Roy: The Man and the Myths" written by the [...]
"Contemporary Images of James Graham, Fifth Earl and the First Marquis of Montrose" by Phinella Henderson I have just completed a review of a new booklet published at the expense of an admirer of the Great Marquis of Montrose, Phinella Henderson of London, England. It is entitled "Contemporary Images of James Graham, Fifth [...]
PHOTOS AND VIDEOS
This is the multimedia section of our website featuring photo albums and video galleries of the Grahams at the Annual General Meeting (AGM) and various games and gatherings in the United States, Canada and Scotland. Click on the photos to see the entire album set. Click on the video stills to start watching the clips.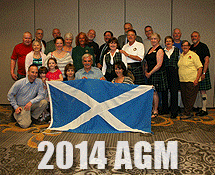 2014 AGM
Fair Hill, Maryland (Delaware)
Click on the link above to see a slideshow on the 2014 AGM webpage.
Photos contributed by R & E Parkinson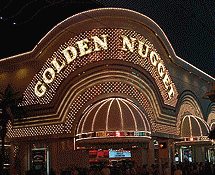 2013 AGM
Las Vegas, Nevada
Click on the link above to see a slideshow on the 2013 AGM webpage.
Photos contributed by R & E Parkinson and Joyce Nethery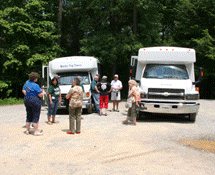 2012 AGM
Maryville, Tennessee, USA
Click on the link above to see a slideshow on the 2012 AGM webpage.
Photos contributed by R & E Parkinson, Shirley Cartman, Kiersten Graham Dick and Kathleen Wheeless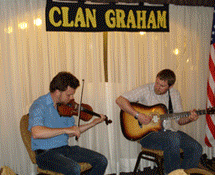 2011 AGM
Halifax, Nova Scotia, Canada
Log in to the Members Only site to see the entire album.
Photos contributed by Ivan Graham, Ekena B. Parkinson and Bill Richardson
2010 AGM
Northern Ireland and Scotland
Log in to the Members Only site to see the entire album.
Photos contributed by Don and Astrid Graham, Gary and Sylvia Graham, Richard Graham, Lee Graham and Ron Wood
IRISH GRAHAMS
Watch Angela Graham, Scots-Irish heritage expert, talk about finding one's Irish roots on The Daily Buzz as she is interviewed by reporter Rachel Kay at the Stone Mountain Highland Games in Atlanta, Georgia, in 2011. The segment was produced and provided by Kelleigh Lewis, Executive Brand Integration Producer, for the nationally syndicated morning show. MPEG-4 file is nearly 9MB. Please enable your browser's plugin to view the video below.
>>> DOWNLOAD HERE <<<
2009 AGM
Ann Belanger recorded these short clips at the 2009 AGM in Estes Park, Colorado. Featured below are videos of the Marine Band and drum corps performing at the Long's Peak Tattoo in September 2009.
NETHERBY HALL
Netherby Hall in Longtown Cumbria is an outstanding grade II mansion house. It is steeped in history from Roman times through the reining era to modern day and has a long connection with the Grahams as they lived in the hall for four centuries before they left the estate in the late 1900s. The new owners have acquired the property in 2014 and are doing extensive restoration work. Visit Netherby virtually at http://www.netherbyhall.co.uk.
RAMPART SCOTLAND NEWSLETTER
The Rampant Scotland Newsletter is your weekly insight into what has been happening in Scotland, snipped from the Scottish media, for Scots in Scotland and abroad, bringing you news, events plus a Scottish magazine section. Printed with 100% recycled electrons, Rampant Scotland Newsletter is also available by e-mail. Just send an e-mail to "Scottie" at scottie@cqm.co.uk with "Subscribe Newsletter" as the subject line and a text version of these free Scottish snippets of news will arrive in your mailbox every weekend!
SCOTLAND.COM
Scotland Channel presents this official guide for Scotland travel: things to do, hotels, dining, shopping, events and more.
SCOTTISH HERITAGE USA
An organization based in North Carolina, this group welcomes members to learn more about their roots. Scottish Heritage USA was founded in 1965 by Ward Melville "to recognize and enhance the original bonds of ancestral and national character among the peoples of Scotland and North America; and to disseminate knowledge of their respective cultural heritages; and in furtherance of such purposes to support the preservation of historic sites, the maintenance of centers of artistic and literary endeavor and such other activities as may be appropriate."
SCOTTISH TARTANS MUSEUM
The Clan Graham Society donates funds to support the non-profit, volunteer-run Scottish Tartans Museum, the main focus of which is on the history and development of Scottish Highland Dress (namely the tartan and the kilt). Visit the museum in Franklin, North Carolina, or their website by clicking on the link above.