We in the Johnstown, Pennsylvania, area, even though we are descendants of Daniel Graham, have to tell about his father. Patrick Graham came to America from County Tyrone, Ireland, in 1747, where he settled in Westmoreland County, Pennsylvania. There he married Elizabeth McKee. Later he traveled to Butler County, Pennsylvania (then known as the wilderness) and cleared the land and built a log cabin. The children, along with his wife on horseback, Patrick and Daniel in saddlebags and Rebecca in her mother's arms, were the first white settlers in Jefferson Township, Butler County. Patrick and Elizabeth had seven more children. Daniel and Elizabeth Barley had 10 children. Robert Smiley Graham, the 12-year-old drummer boy with the 54th Pennsylvania Regiment, was my great-grandfather. Below is a background of this line of the Graham family, which may be helpful to genealogists.
DANIEL GRAHAM
Daniel was the third child of Patrick and Elizabeth McKee Graham and was born in Westmoreland Country, Pennsylvania, on April 16, 1796. He was brought to the newly-established Graham homestead in Jefferson Township, Buttler County, within the year of his birth and no doubt was carried in his mother's arms as he rode on horseback to the new home.
Very little information has been found concerning the life of Daniel and his family but according to the information in the "Bibliographical and Portrait Cyclopedia of Cambria County," published by the Union Publishing Company of Philadelphia, in 1896, Daniel spent most of his life as a farmer. He was engaged in the manufacture of salt for four years at Freeport, Pennsylvania, perhaps using the native salt rock that was found in that vicinity. He was a Republican and served as justice of the peace in his community for 15 years.
Daniel married Liddia Iddings and 13 children were born into this marriage. According to some old family records in possession of George A. Gregory, Liddia Iddings Graham died February 16, 1853, and Daniel Graham married Elizabeth Barley on May 19, 1856.
CAPTAIN PATRICK GRAHAM
The oldest son of Daniel Graham, Captain Patrick Graham (third generation) is of special interest to members of the Clan from this branch, because Patrick was rather closely connected with the development of the Johnstown, Pennsylvania, district and many of his descendants still live in this vicinity. Patrick was born on November 15, 1817, probably in Butler County. Records show that he was serving as a timekeeper on the construction of the canal that was being built up the Conemaugh Valley for a means of transportation east from Pittsburgh, in 1832. As he was only 15 years old at the time he was no doubt an ambitious and hard working young man.
Later he learned the tailoring trade and worked at this occupation for some 20 years. About 1852, he was employed as a heater at the Brady's Bend Iron Company in Butler county. He also served four years as justice of the peace. About 1856, he moved to Johnstown and was employed as a heater with the Woods, Morrell and Company. An article appearing in the Johnstown Tribune newspaper gives the following account of his work in the Cambria Steel plant as follows:
"Captain Patrick Graham heated the piles from which the first railroad rails were rolled in Fritz's three high rolls. When John Fritz wrote his story of the first succesful operation of a three high roll train at the Cambria Works in 1857, he dwelt upon the fact that extreme care was taken in the selection of a competent, honest heater to heat the piles for the experiment. The competent, honest heater lived in Johnstown in the person of Captain Patrick Graham."
Another interesting fact was mentioned in the newspaper article. His grandfather Iddings was one of Mad Anthony Wayne's Indian Scouts, holding the rank of Sergeant. He had a lot of experiences under Wayne and a great hatred for the Indians.
At the beginning of the Civil War in 1861, Patrick Graham mustered a company in Johnstown and was appointed to act as their captain. He continued in the service until May 15, 1864, when he was severely wounded at the Battle of New Market, in Virginia, and was taken prisoner by the Confederates.
The following story is told as the reason for his capture. During the battle, he was severely wounded by a rifle bullet entering one eye. He was judged by his comrades to be dead and was propped up by a tree to keep his body from being trampled. The battle went badly for the Federal Army and the Confederates over-ran the battle field. On the day after the battle when the Confederates were checking on the casualties, they noticed signs of life in the man leaning against the tree. He was picked up and recovered and spent the remainder of the war in several of the southern prisons.
The explanation of his marvelous recovery was that the bullet that entered his eye was pretty well spent and instead of piercing his skull was deflected from the eye socket to his throat. The story tells how he later recalled that during the night, he had coughed up the bullet and spit it out without realizing what it was. Information contained in an article published in the Johnstown Tribune in 1917, telling of the death of Robert Smiley Graham, a son of Patrick Graham, also tells how Patrick was kindly treated by his captors and how while he was imprisoned at Columbia, South Carolina, he became acquainted with Surgeon Todd of the Confederate Army, who was a brother of Mrs. Lincoln. After his release, Captain Graham came north to Washington and carried a message from Dr. Todd to the President. He was still in Washington at the time President Lincoln was assissinated.
Patrick Graham returned to Johnstown after his discharge and for many years was a familiar man about town wearing a patch on his wounded eye. An interesting story is also told in the newspaper article of 1917 concerning Patrick's son, Robert Smiley Graham, who was only 12 years old when his father went to the army. Robert begged his father to take him along as a drummer boy but Patrick refused, saying he was too young. After his father had left town, Robert followed the Company to Harrisburg, where they were in camp for a time and was finally accepted as a drummer boy and served as such for the remainder of the war.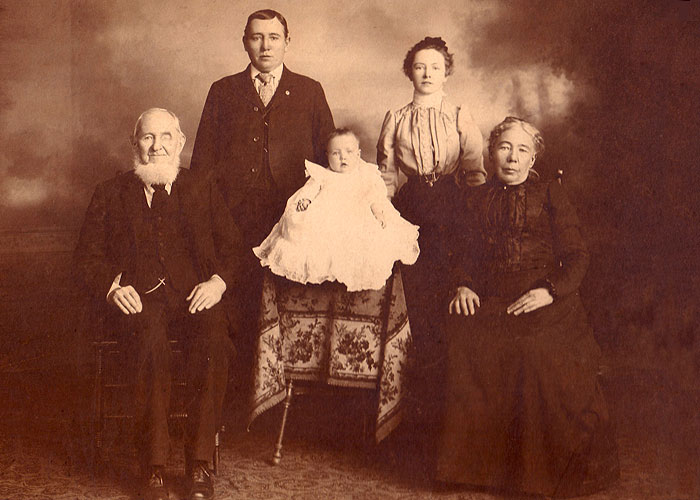 Graham family portrait: Captain Patrick Graham (November 15, 1817 – November 13, 1866) married Magdeline C. Hamble (March 12, 1817 – December 16, 1868) on March 24, 1837; his daughter Sara Jane with her second husband, Stephen B. Gregory, and their first child, George Gregory (1876-1958).