Clan Graham Society member Barrett in South Carolina contacted me and wanted to know if I could help him. His grandfather's name was Joseph Graham and lived in New York City. He knew that his wife's name was Juliet S. Norton, and that she had been adopted. And from there the story unravels. Joseph and Juliet Graham had four sons born between 1900 and 1903 and in 1908 Juliet was killed in an automobile accident and Joseph seems to disappear. The sons Joseph and Montrose were sent to a boarding school, and the twins James and Donald were cared for by their maternal grandmother for a few years and then they were adopted by another family. James became Franklin Yale Haight and Donald became Lansing Haight.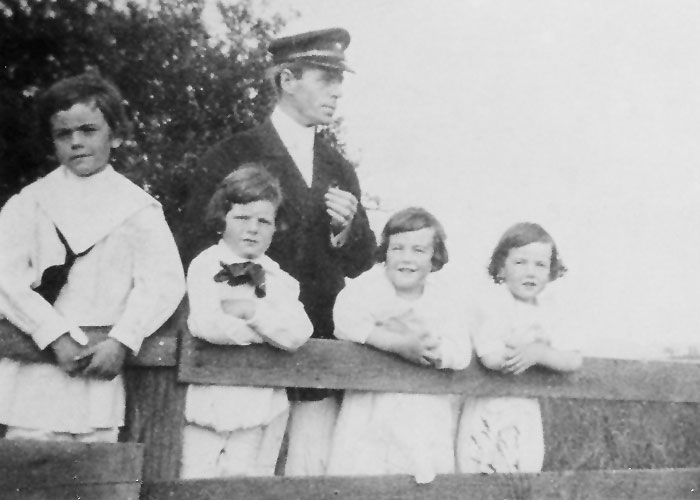 Joseph H. Graham is pictured with his four sons, Joseph Jr. and Montrose and twins Jamie and Donald in the early 1900s. The twins were adopted by another family and became Franklin Yale Haight and Lansing Haight, respectively.
---
Using census records I was able to track some years of the boys.
On the 1900 Younker Ward 3, Westchester County, New York census record it states: Joseph Graham, age 29, born June 1871 in New York, his parents were born in Scotland, he was a laborer and had been married to Juliet, age 22, for one year. Juliet was born April 1878 in New York and her parents were born in Connecticut. They had a newborn son Joseph.
In 1910 all four boys, Joseph A. Graham and Montrose Graham, twins James and Donald Graham were living in Woodbury, Litchfield County, Connecticut with a teacher, a single woman, Ruth B. Smith and a nurse Grace M. Gilks. Their father was not to be found.
The year 1920 finds the older boys Montrose, age 17, and Joseph, age 19, living with their maternal grandmother Annetta Norton, age 80, born in Connecticut. Montrose is a bookkeeper for a Brass Shop in Waterbury, New Haven County, Connecticut and Joseph has no occupation declared. In 1923 Joseph applied for a passport and states that his father was deceased.
The twins were living with their adoptive parents in Waterbury, Connecticut. Charles P. Haight, age 55, was born in Connecticut. He was a secretary of a tool company. His wife Sarah, age 52, was born in New York. The sons Franklin and Lansing were age 17 and listed as being born in New York and their parents born in New York. In 1930 Lansing is still living with his adoptive parents and is a clerk at the hotel Elton. Brother Franklin, age 26, is living on his own and is the desk clerk at a hotel.
The eldest, Joseph, was a bachelor and served in both World Wars (no records found). He went to Yale and was athletic. Montrose married, served in World War II, was an executive with Pratt and Whitney and had no children. Lansing married and had a daughter Patricia. Franklin dropped out of school, joined the Navy, married in 1933 and had four children: Franklin, Barrett, Donna and Vaughn.
This family has always gone by the surname Haight but knew of the Graham story and wanted to find their roots. Somehow they felt that grandfather Joseph was born in the Rochester, New York area.
As a genealogist, i.e. detective, I looked in the 1880 census and found a Joseph Graham born about 1870 in Rochester. He was the son of James Joseph Graham and Nora Hanrahan. James Joseph was born in Scotland and married Nora in Newfoundland, Canada. Searching our Clan Graham Society database, I had contact information for a descendant of this family. Rosemary had sent information on this family years ago. I contacted her and asked if she knew what had happened to the son Joseph. We talked on the phone and I explained the situation. Barrett and Rosemary exchanged information and photos. Rosemary still lives in the Rochester area and has lots of documentation on the family. The Joseph Graham of Rochester had the middle initial of "H" and we had not seen that with our Joseph Graham in New York City. We begin to have our doubts although all three of us continued to research.
I get a few genealogy newsletters by e-mail and one of them suggested that there was an Italian site in New York City with good information. Research in New York City is very difficult as there are so many living there. I took a look to see if there were any Grahams listed on this Italian site and this was the break-through. There was the marriage record for Joseph H. A. Graham and Juliet S. Norton. They were married in Brooklyn, New York, on September 29, 1898. The marriage license listed their parents, their age and place of birth. Joseph H. A. Graham was age 28, born in Rochester, son of James J. Graham and Nora Hanrahan. Juliet was age 26 born in Bridgeport, Connecticut, the daughter of Philo Norton and Annette Yale.
This was the proof that was needed. Of course we want to go back another generation…
Barrett's brother Vaughn has taken the DNA test and matched with another Graham. Blood runs deep. Two of Barrett's children have legally changed their name to Graham and the others have used Graham as the middle name for many of their children. We welcome the Haight family as Grahams.