Born: 25 September, 1935, in Winnipeg, Canada.
Died: 29 October, 1914, in Larbert, aged 79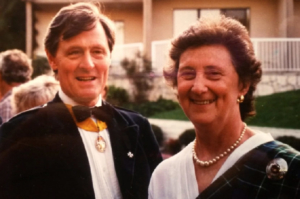 On any given evening, Catherine "Cathy" Graham might have been found washing dishes or serving tea and sandwiches to the destitute in the heart of Govan. The next day, she might be welcoming royals and nobles to her husband's ancestral estate around Loch Lomond. For she was the Duchess of Montrose, wife of James Graham, 8th Duke of Montrose, Chief of the Clan Graham, an elected hereditary peer, a former Conservative Party spokesman on Scottish affairs and currently a Lords backbencher.
The future Duke and Duchess had both been born abroad to Scots parents – he in Salisbury, Rhodesia, she in Winnipeg, Canada. After marrying in 1970, she settled with him in Scotland and together they gave back profusely to their communities, notably around Drymen and Loch Lomond, where the Duchess was active in local affairs, but also in Glasgow, which she came to love.
The ancestral seat Buchanan Castle in Drymen (18 miles north-west of Glasgow) having become dilapidated years earlier, they lived at Auchmar, near the popular tourist spot of Balmaha on the eastern shore of Loch Lomond.
Wearing the family tartan, she was often to be seen by the Duke's side at the club's formal functions.
Catherine gained the title Duchess of Montrose in 1992 when her husband's father, James Angus Graham, the 7th Duke of Montrose, died.
However, the alcoholics, addicts or homeless she helped care for at the Preshal (Gaelic for "precious") Trust, a Christian charity in Govan, of which she was president, knew her simply as Cathy, rather than "Your Grace".
She had given her support to Preshal soon after it was founded in 2002 by the former teenage alcoholic Govanite May Nicholson, once described as "the Mother Teresa of Govan".
The Duchess and the recovered Clydeside alcoholic: someone should write the play. Two great ladies with backgrounds as different as chalk and cheese but nothing less than saints to those they helped to survive and prosper.
They started with a kettle, a toaster and loaves of bread brought by the Duchess from her mansion. They later had the backing of another Govanite, Sir Alex Ferguson, who as a boy (and amateur football player for Queen's Park FC) once delivered milk on Aboukir Street where the Preshal Trust is now based. Sir Alex is appeal patron of the trust and May Nicholson continues to help suffering Glaswegians survive.
Catherine Elizabeth McDonnell Young was born in Winnipeg, Manitoba, Canada on 25 September, 1935. Her mother, Mary Moody, was of Cornish origin. Her father, Norman Andrew Thomson Young, was the son of Scottish immigrants, his name still revered among Manitobans. He was an educator, the first headmaster of the now-famous Ravenscourt School in Winnipeg.
As war threatened in the late 1930s, he joined up as a reservist with the Queen's Own Cameron Highlanders of Canada.
Driving his comrades on from the beaches as his piper played, Captain Young was killed just inland and is buried at Hauteville-sur-mer, France. Catherine was only six when he died. Sixty per cent of the Canadian raiding party were killed in the action, often forgotten as historians tend to focus on D-Day.
Catherine's father's commitment to Scotland, the UK and the monarch stayed with her and she became a proud Scotswoman.
She was head girl at Balmoral Hall school in Winnipeg (a private girls' school named after Balmoral Castle) and went on to study at the University of Manitoba and Queen's University, Ontario, where she was known as a fine gymnast and was in the diving team. As a young woman, she joined her mother in the Moral Re-Armament movement.
Meeting May Nicholson helped both ladies focus on what was most important to both of them — people. May chose the name Preshal because, she said: "To us, everyone who walks through this door is precious."
Away from Govan, the Duchess supported the Duke in farming, gardening and whatever else needed to be done around the estate at Auchmar and Drymen.
Royalty often appeared at Auchmar House, but the Duchess looked her happiest while welcoming those men, women, boys and girls for whom she had poured tea in Govan.
Her husband, the Duke, was a welcoming and inquisitive host. Having spent some of his earliest years in a mud hut on his father's burgeoning farm in Rhodesia, the future Duke of Montrose liked to ask questions. One was asking for the hand of Catherine, whom he'd met while she was helping on a farm in Suffolk. They wed on 31 January, 1970, before settling on the Graham lands in Scotland.
By then, the family's famous deer park island, Inchmurrin on Loch Lomond, had been sold off to the local Scott family, who continue to farm it and run a hotel and self-catering homes. The Montroses' old hunting lodge remains at the tip of the island.
In her latter years, the Duchess supported countless charities and causes, far beyond Govan. These included the Red Cross, the Christmas carol concert on behalf of Cancer Research UK at Glasgow Cathedral, the Scotland's Gardens scheme to open gardens to the public, and the annual Women of Scotland Lunch to celebrate the achievements of Scottish women.
While the Duke speaks English with a pleasant Scottish lilt, as well as fluent Mandarin Chinese, the Duchess maintained her Canadian accent throughout her life, although picking up a smattering of Govanese from May Nicholson and Sir Alex Ferguson.
She died in the Forth Valley Royal Hospital in Larbert.
The Duchess of Montrose is survived by her husband James, the 8th Duke, and their children Lady Hermione, James the Marquess of Graham, and Lord Ronald.