Annual General Meeting (AGM)
Each year the the Clan Graham Society holds an Annual General Meeting (AGM) at various locations in North America or Scotland (every five years since 1990) to socialize, conduct Society business and elect Society officials. Activities at the AGM typically include a dinner, attendance at the local Highland games and a ceilidh. Sightseeing and tours are optional to encourage networking and to establish friendships with fellow family and clan members. AGM minutes are posted on the Members Only site. But travelogues may be downloaded by clicking on the list below. Adobe Acrobat Reader is required for these PDFs. See photos and watch videos from select AGMs by clicking on the News & Resources page.
Registration has begun for the Clan Graham Society's Annual General Meeting (AGM) in Blowing Rock, North Carolina, November 5th – 9th, 2020. Early registration by August 15, 2020. Late registration by September 15, 2020
Download the registration form HERE.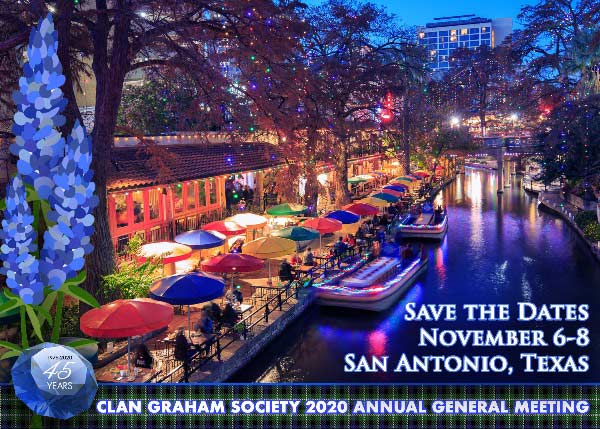 2020 AGM HOST CONTACT INFORMATION
LORA GRAHAM GREENLAND
2020 AGM CHAIR AND CGS VP
Address UNTIL June 15, 2020:
1808 Baihly Hills Drive SW
Rochester, Minnesota 55902
AGM PRICES
Registration: $50/family — by Early Registration (by August 15)
Registration: $60/family — by Late Registration (by September 15)
CGS Banquet: $65/person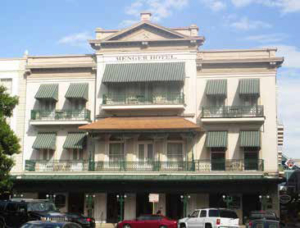 ACCOMMODATIONS
A block of rooms has been reserved for CGS members for November 5 (Thursday early check-in) to November 8 (Sunday). Hotel reservations are open now and close October 1. Check in is at 3 p.m. and check out is at 11 a.m. Please use this link for the hotel and identify yourself as a member of the Clan Graham Society: REGISTER HERE!
THE MENGER HOTEL
204 Alamo Plaza,
San Antonio, TX 78205
Telephone: (800) 345-9285
Website: https://www.mengerhotel.com/
Room Rate: $129/per night
Parking: $20/per night
TENTATIVE ITINERARY
Friday, November 6, 2020
2 – 8 p.m.: Arrivals and registration at the Menger Hotel; socializing available in the historic bar and lobby
6 – 8 p.m.: CGS social in the lobby – time to catch up with friends!
Or visit the Alamo next door and enjoy River Walk restaurants and shopping on your own schedule and at your leisure
Saturday, November 7, 2020
Sightsee around San Antonio and celebrate Fiesta events on your own
6 p.m.: CGS Banquet and Address to the Haggis; members are encouraged to wear their tartans and kilts and dress in "shades of sapphire blue" (your choice: formal or casual)
8 p.m.: Clan Graham Society AGM
Sunday, November 8, 2020
8 a.m.: CGS farewell breakfast included at the hotel restaurant
11 a.m.: Hotel checkout time
Society and Membership
The Clan Graham Society is an organization of the descendants of the families of the "Gallant Grahams" of old Scotland.
Its membership is made up of those Grahams who know and who propagate the very distinguished accomplishments and honorable ideals of the Grahams, past and present. Because of the large number of Grahams in Scotland, their wide dispersion all along the Highland line was from Montrose on the North Sea to Loch Lomond (and further west) down past Glasgow through the Lowlands to Carlisle on the Border.
Highland Games, Gatherings and Festivals Reports
The Grahams are well-represented throughout North America with a clan tent at most regional Highland games and Scottish or Celtic festivals. Representation of the Clan Graham Society at Highland games and gatherings shall be authorized by the State Convener and Regional Commissioner of the area. Each Games Chairman must be a member in good standing of the Clan Graham Society. A Games Chairman shall be appointed by the State Convener and approved by the Regional Commissioner in the area. The Games Chairman shall:
inform the State Convener in advance of plans made to represent the Clan Graham Society
request assistance from the State Convener when it is needed
send a copy of all correspondence to the State Convener
send a written report to the State Convener following the games at which the Clan Graham Society has been represented
More information about sponsoring a tent and reimbursement forms are downloadable by logging in to the Members Only (Documents) section.
Grahams at the Games
Click on a state/province to find out whether the Grahams will be participating in a Scottish or Highland festival near you. If there are no regional commissioners, state conveners or games chairpersons in your area, please consider hosting a tent on behalf of the Clan Graham. Contact the Continental Convener Vice President or others listed below for more information and for a games tent hosting kit.
For a state-by-state listing of games throughout the year, please see the calendar on the Association of Scottish Games and Festivals at https://www.asgf.org/games-by-state.
VOLUNTEER – Contact Gordon Graham at gordon@cheerpartners.com for hosting a tent or serving as a leader at the local level.